Treatments / Peels Birmingham AL
AHA Active Exfoliator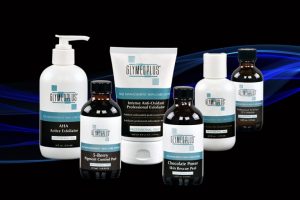 Designed for the busy person, our exclusive "Active Life Corrective Treatment" will immediately improve your skin. In this 60 minute session, our experienced skin care technician will administer a deep pre cleanse and AHA fruit acid peel finishing with a protective application of Cell Science bio active nutritional skin conditioners. This 60-minute treatment will be the best part of your day.
Chocolate Power Skin Rescue Peel
This is incredible delicious smelling peel may look mild, but this chocolate packs a punch. This rescue peel is great for those for with dehydrated and pigmented skin. Containing over 20,000 antioxidants, this peel will brighten your skin and help protect your skin from free-radicals and anti-aging.
Lactic Acid Treatment
Awaken that glow of health for your skin with our Skin Recovery Treatment designed for stressed, wrinkle, skin lacking tone and vitality. This exclusive treatment uses nature's natural resource of lactic acid to increase your skin's natural moisture supply, restore its natural barrier and target sunspots. For best results a series of six treatments is recommended.
Sal-X
There are many reasons for acne attacks, including the most common; stress, genetics, and hormone factors. Our comprehensive acne treatments are specifically targeted to identify the problem and control this potentially disfiguring condition.
Jessner's Peel Solution
For moderate to severe acne, keratinized skin, and aging skin
5-Berry Pigment Control Peel
For moderate to advanced acne, keratinized skin, hyperpigmentation, and aging skin.
Vitamin A Professional Power Peel
For moderate to advanced acnes, keratinized skin, hyperpigmentation and wrinkles.
Professional TCA Peel
For hyperpigmentation, keratinized skin, and advanced aging skin.
Chemical Peels
Chemical peels are used to chemically removed the upper layers of your skin and encourage the growth of smoother healthier skin. Each peel is customized according to the needs of the skin.
Chemical peel is helpful for wrinkles, light acne scarring and irregular pigmentation such as freckles and age spots. Pre-cancerous conditions such as keratoses (thick, rough, reddish growths) also respond well to this procedure.
There are several types of chemical peels:
Light peels to remove superficial wrinkles
Medium peels
Deep peels for more severe conditions.
After thoroughly cleansing the skin, a small applicator is used to apply the chemical solution to an area of the face. Excess solution is removed and the procedure is repeated on other areas.
The amount of improvement varies and depends upon the initial condition of the patient's skin. Significant improvement of damaged skin has been achieved, which can produce dramatic results.
Some Of Our Satisfied Patients
Jill is absolutely amazing. She makes your experience great. I had my eyebrows waxed this evening and I love my results. Thank you for the great service!
Jill does an amazing job. Had a facial a couple of weeks ago and my face feels so smooth. Thanks Jill!!
Jill is a "skin care professional". Great facial! Great skin care advice. Beautiful results!