Bone Grafting For Dental Implants
Bone Grafting For Dental Implants
BONE GRAFTING: LAYING THE GROUNDWORK FOR DENTAL IMPLANTS
In order to place a dental implant, there must first be adequate jawbone. Without sufficient bone mass, the dental implant is more likely to fail early or have trouble fusing with the existing bone at all. For this reason, bone grafting is sometimes required before the implant is placed.
DENTAL IMPLANTS: WILL I NEED BONE GRAFTING?
Only a thorough examination in our office can tell us if you will need a bone graft, but here are a few commonly occurring instances that often indicate its necessity:
When a tooth has been missing for several months or more. If you lost a tooth or had an extraction and didn't have an implant or graft placed at the same time, your jawbone has likely deteriorated.
You experienced trauma or infection that caused defect in the bone.
Missing front teeth. The walls of the front teeth sockets are often very thin and have a difficult time regenerating on their own.
Sinus cavities that are very large or low. In this case, a 

"sinus lift"

 may be required to help restore the bone height needed for implant placement.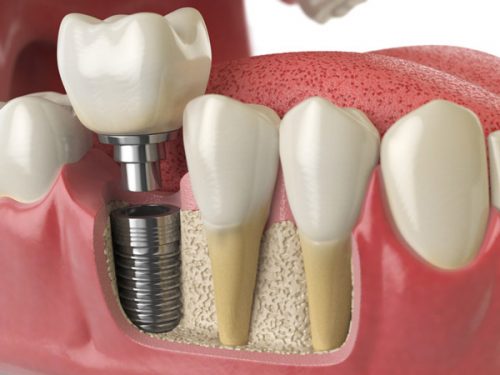 WHAT IS BONE GRAFTING?
Bone grafting is a very common procedure during which we implant donated bone (usually from elsewhere in your body) and a special grafting material into the site that needs bulking up. The jaw is then left to heal for several months while your body grows new bone in the area.
DOES BONE GRAFTING ADD MORE TIME TO THE IMPLANT PROCESS?
Yes, it takes several months for new bone to grow in the jaw. Once the bone is adequately rejuvenated, Dr. Rothman & Dr. McKay can resume the implant process.
WHAT IS RECOVERY FROM BONE GRAFTING LIKE?
Bone grafting may cause some post-op soreness for a few days, but typically this mild pain can be managed with over-the-counter medications. Any necessary prescriptions will be discussed at your appointment.
For more details on bone grafting and to find out how soon you can have your implants placed, please give us a call!
Some Of Our Satisfied Patients
Great people & so friendly. This isn't the first time I have used Dr. Rothman. Both of my boys had their wisdom teeth taken out by him many years ago. Today was the second time I have used him, second wisdom tooth taken out today. I have high anxiety when I go to the dentist but they make you feel so comfortable and relaxed. I was in and out of there in no time. Dr. Rothman called to check on me as well. I highly recommend Alabama Oral & Facial Surgery
The staff are awesome. The doctor was very professional and very good at communicating. I received A+ care.
Got to make a shoutout this place. My severe anxiety prevents me from coming to get a lot of dental work. Tooth was pulled today with twilight and the staff was just very caring to work with my anxiety. So relieved its over and it got through quickly. Keep working with your patients like that and the business will return. Thanks guys.