FULL-ARCH REPLACEMENTS: NEW SMILES IN ONE DAY
A patient that is missing an entire row of teeth is in a unique position: a chance to start fresh with a full-arch restoration! While there are other options for treating a full row of missing teeth such as single implants and dentures, patients these days are expressing a desire for a solution that is more affordable, quick and convenient.
A REVOLUTION IN MISSING TEETH
The demand for immediate replacement teeth has led to a revolution in how we deal with missing teeth: the full-arch restoration. Also known as "implant supported dentures", this innovative treatment allows Dr. Rothman, & Dr. McKay  to combine implant technology with dentures to give our patients a new smile and a renewed outlook on life, all in one day!
Treatment With Implant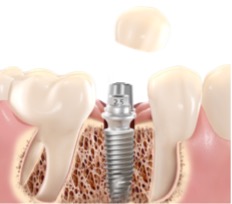 Placing an implant
• Conservation of the adjacent natural teeth
• Preservation of the bone structure
Conventional Treatment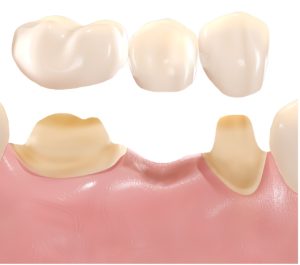 Fixed Bridge
• Wear of the adjacent teeth supporting the bridge
• Bone resorption in the edentulous area
Treatment With Implant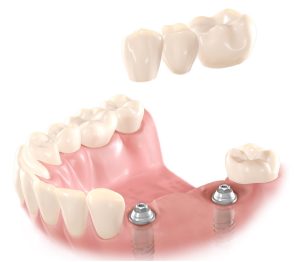 Placement of implants with fixed prosthesis
• Preservation of the bone structure and palate
• Teeth look more natural
• Maintaining quality of chewing
Conventional Treatment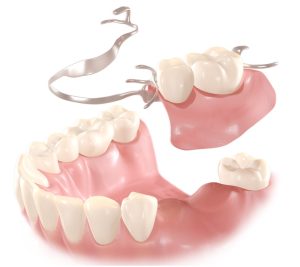 Treatment with removable partial denture (RPD)
RPDs require support from other teeth and edentulous oral gum

Possible discomfort caused by movement of prosthesis

Possible prosthetic instability

Possible changes to the palate
Treatment With Implant
Full protocol with implants
Preservation of the bone structure and palate

Maintaining quality of chewing

The prosthesis will be fixed and attached on implants
Conventional Treatment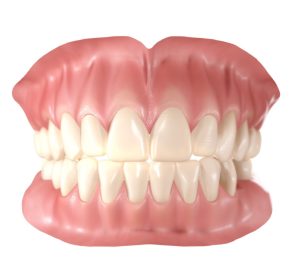 Treatment with full prosthesis
• Bone resorption and soft tissues
• Possible prosthetic instability
• The prosthesis is removable (denture) and held by the gums
DENTURES AND IMPLANTS: WORKING TOGETHER
Traditional dentures can be inconvenient, painful and unstable. And while dental implants are an excellent choice for single tooth replacements, on the scale of a full arch, they can be expensive and complicated. However, putting these two treatments together yields a solution that works for nearly everyone: implant supported overdentures. During this treatment, four dental implants are placed in the jaw and a full dental bridge attached to them, giving you a full row of teeth in just one appointment.
FULL ARCH REPLACEMENT PROCEDURE
As with other dental implant procedures, you will be sedated for comfort during the surgery and thus won't feel a thing. Post-operation soreness is typically manageable with over-the-counter medications, and any necessary prescriptions will be discussed at your appointment.
IMPLANT SUPPORTED DENTURES: YOUR OPTIONS
Hybrid Half-Denture/Half-Fixed
Also known as a screw retained denture, this option offers maximum stability. Placed on five or more implants and secured by screws or clasps, the denture is permanent, only removed by us at maintenance visits. The denture does not contact gum tissue, allowing you to clean under it without removal.
Locater Attachment Denture
Two implants are placed in the lower jaw, onto which a denture snaps into place. This option is more stable than traditional, removable dentures; however, there will still be some movement. Sore spots can develop if food is caught underneath. Periodic appointments ensure proper adjustment.
Bar Attachment Denture
Referred to above as "overdentures", this process involves the placing of four to six implants in the lower jaw. A custom support bar connects the implants, and a denture with internal retention clips is attached to the support bar. This option is very popular as the denture is more stable than with ball attachments, yet it is still removable for cleaning.
Individual Implants
IMPLANT RETAINED UPPER DENTURE
Depending upon the number of implants to be placed, it may be possible to eliminate the need for covering the roof of your mouth with a complete denture. This option allows you to fully taste your food and gives you a better sense of its temperature. Your denture will feel more natural. You will still have a removable denture, which makes cleaning the support bar and denture much easier.
Of course, there is always the option to have each missing tooth replaced by an individual dental implant. The benefits of this are increased stability, preservation of the jawbone and a natural look. However, the process is the most costly and time-consuming.
Individual Upper Implants
If you want a restoration that is similar to your natural teeth and therefore not removable, you probably will need eight to ten individual 
implants
 placed. This is followed after healing by the placement of the abutments and new replacement crowns.
For more information on dental implants, please visit our FAQ page.
If you are fed up with dentures and are looking for a better, more permanent solution, please call us to find out more about the life-changing transformations that full arch restorations are giving patients in our office.
Some Of Our Satisfied Patients
Great people & so friendly. This isn't the first time I have used Dr. Rothman. Both of my boys had their wisdom teeth taken out by him many years ago. Today was the second time I have used him, second wisdom tooth taken out today. I have high anxiety when I go to the dentist but they make you feel so comfortable and relaxed. I was in and out of there in no time. Dr. Rothman called to check on me as well. I highly recommend Alabama Oral & Facial Surgery
The staff are awesome. The doctor was very professional and very good at communicating. I received A+ care.
Got to make a shoutout this place. My severe anxiety prevents me from coming to get a lot of dental work. Tooth was pulled today with twilight and the staff was just very caring to work with my anxiety. So relieved its over and it got through quickly. Keep working with your patients like that and the business will return. Thanks guys.